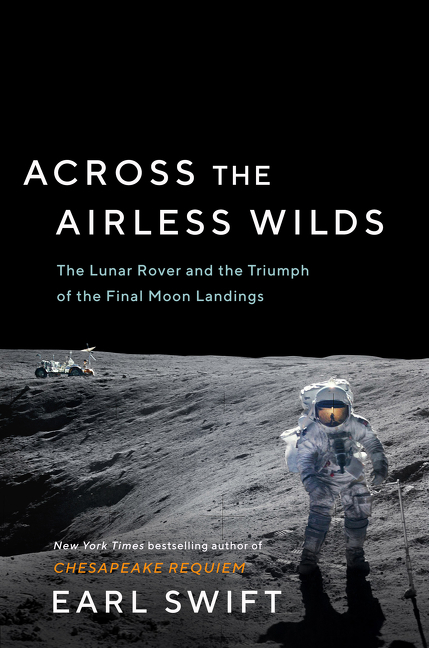 Across the Airless Wilds: The Lunar Rover and the Triumph of the Final Moon Landings
"In this follow-up to the ... New York Times bestseller Chesapeake Requiem, Earl Swift rediscovers the final three Apollo Moon landings, arguing that these overlooked missions--distinguished by the use of the revolutionary Lunar Roving Vehicle--were the pinnacle of human exploration"--
Quantity
Price
Discount
List Price

$

28.99
1 - 29

$

24.64
15%
30 - 99

$

20.29
30%
100 - 499

$

18.84
35%
500 +

$

17.39
40%
Non-returnable discount pricing
---
Book Information
| | |
| --- | --- |
| Publisher: | Custom House |
| Publish Date: | 07/06/2021 |
| Pages: | 384 |
| ISBN-13: | 9780062986535 |
| ISBN-10: | 0062986538 |
| Language: | English |
What We're Saying
Earl Swift rediscovers the final three Apollo Moon landings, arguing that these overlooked missions—distinguished by the use of the revolutionary Lunar Roving Vehicle—were the pinnacle of human exploration. READ FULL DESCRIPTION
The rocket scientists who figured out how to break us free from Earth's gravity and get us to the moon usually get all the glory. Earl Swift tells their story, too, but goes beyond them to tell the tale of the engineers who made the final leg of the last three missions to the moon—aboard lunar rovers—possible. READ FULL DESCRIPTION
Full Description
"THRILLING. ... Up-end[s] the Apollo narrative entirely." --The Times (London)
A "brilliantly observed" (Newsweek) and "endlessly fascinating" (WSJ) rediscovery of the final Apollo moon landings, revealing why these extraordinary yet overshadowed missions--distinguished by the use of the revolutionary lunar roving vehicle--deserve to be celebrated as the pinnacle of human adventure and exploration.
One of The Wall Street Journal's 10 Best Books of the Month
8:36 P.M. EST, December 12, 1972: Apollo 17 astronauts Gene Cernan and Jack Schmitt braked to a stop alongside Nansen Crater, keenly aware that they were far, far from home. They had flown nearly a quarter-million miles to the man in the moon's left eye, landed at its edge, and then driven five miles in to this desolate, boulder-strewn landscape. As they gathered samples, they strode at the outermost edge of mankind's travels. This place, this moment, marked the extreme of exploration for a species born to wander.
A few feet away sat the machine that made the achievement possible: an electric go-cart that folded like a business letter, weighed less than eighty pounds in the moon's reduced gravity, and muscled its way up mountains, around craters, and over undulating plains on America's last three ventures to the lunar surface.
In the decades since, the exploits of the astronauts on those final expeditions have dimmed in the shadow cast by the first moon landing. But Apollo 11 was but a prelude to what came later: while Neil Armstrong and Buzz Aldrin trod a sliver of flat lunar desert smaller than a football field, Apollos 15, 16, and 17 each commanded a mountainous area the size of Manhattan. All told, their crews traveled fifty-six miles, and brought deep science and a far more swashbuckling style of exploration to the moon. And they triumphed for one very American reason: they drove.
In this fast-moving history of the rover and the adventures it ignited, Earl Swift puts the reader alongside the men who dreamed of driving on the moon and designed and built the vehicle, troubleshot its flaws, and drove it on the moon's surface. Finally shining a deserved spotlight on these overlooked characters and the missions they created, Across the Airless Wilds is a celebration of human genius, perseverance, and daring.