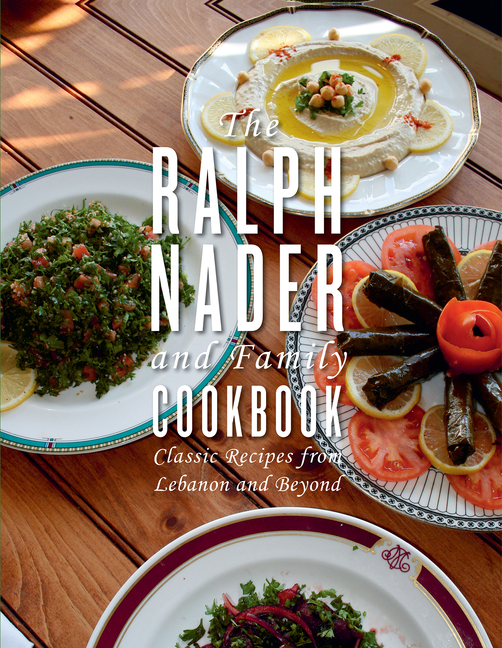 The Ralph Nader and Family Cookbook: Classic Recipes from Lebanon and Beyond
Ralph Nader and his family share recipes inspired by his parents' commitment to the healthy diet of their homeland of Lebanon.
Quantity
Price
Discount
List Price

$

24.95
1 - 24

$

21.21
15%
25 - 99

$

17.47
30%
100 - 499

$

16.22
35%
500 +

$

15.72
37%
Non-returnable discount pricing
---
Book Information
| | |
| --- | --- |
| Publisher: | Akashic Books |
| Publish Date: | 04/07/2020 |
| Pages: | 104 |
| ISBN-13: | 9781617757945 |
| ISBN-10: | 1617757942 |
| Language: | English |
Full Description
Ralph Nader and his family share recipes inspired by his parents' commitment to the healthy diet of their homeland of Lebanon.
Growing up in Winsted, Conn., Ralph Nader would often help his mother cook--kneading the bread dough, chopping fragrant spices to prepare dishes for the family table from his parents' native Lebanon.
--NPR, Weekend Edition Sunday
More than just a collection of recipes, though, this is a window on a culture and a family. Nader's description of his mother convincing 8-year-old Ralph to eat radishes speaks volumes about this persuasive matriarch and the tireless activist she raised.
--Washington Post Book Club
The book is both a compilation of Lebanese dishes Nader grew up eating and an homage to his mother Rose, who never let her children eat anything processed or prepackaged, and always cooked from scratch.
--The Hartford Courant
Nader's cookbook is many things: it is an homage to his mother and her love of simple cooking that her family enjoyed around the kitchen table; a delightful and colorful examination (filled with recipes) of the Lebanese culinary tradition that immigrants to the United States carried with them to a new land; and an endorsement of good eating, cooking with simple, fresh ingredients that Nader hopes will continue to open many individuals' minds about obesity and the role processed foods play in this national, indeed, global health crises.
--Litchfield County Times
One cannot put down this beautifully illustrated book, with a stunning full-page colored photo opposite each recipe. Large print makes it easy to read while you work, and the engaging introduction by Nader relates life as a young boy in Winsted.
--The Republican-American
"The great thing about all these recipes is they're familiar, easy to prepare, and really tasty . . . The Cookbook is quick and easy to read, the dishes are familiar and elegant."
--CounterPunch
Ralph Nader is best-known for his social critiques and his efforts to increase government and corporate accountability, but what some might not know about him is his lifelong commitment to healthy eating. Born in Connecticut to Lebanese parents, Nader's appreciation of food began at an early age, when his parents, Rose and Nathra, owned an eatery, bakery, and delicatessen called the Highland Arms Restaurant. The family eschewed processed foods and ate only a moderate amount of lean red meat.
Nowadays, the Mediterranean diet is considered one of the healthiest on the planet, but in the 1930s and '40s of Nader's youth it was considered by many Americans as simply strange. Luckily for Nader and his siblings, this didn't prevent their mother, Rose, from serving the family homemade, healthy meals--dishes from her homeland of Lebanon. Rose didn't simply encourage her children to eat well, she took time to discuss and explain her approach to food; she used the family meals to connect all of her children to the traditions of their ancestors.
The Ralph Nader and Family Cookbook shares the cuisine of Nader's upbringing, presenting Lebanese dishes inspired by Rose's recipes that will be both known to many, including hummus and baba ghanoush, as well as others that may be lesser known, such as kibbe, the extremely versatile national dish of Lebanon, and sheikh al-mahshi--the 'king' of stuffed foods. The cookbook includes an introduction by Nader and anecdotes throughout. The Ralph Nader and Family Cookbook will entice one's taste buds, while sharing a side of Ralph Nader that may not be commonly known, though will not surprise anyone familiar with his decades of activism and involvement in consumer protection advocacy.