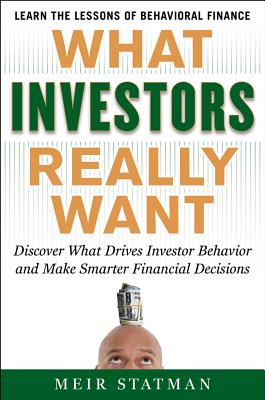 What Investors Really Want: Know What Drives Investor Behavior and Make Smarter Financial Decisions
"Learn the lessons of behavioral finance"--Dust jacket.
February 2014 Bestseller
Quantity
Price
Discount
List Price

$

35.00
1 - 24

$

29.75
15%
25 +

$

21.00
40%
Non-returnable discount pricing
---
Book Information
| | |
| --- | --- |
| Publisher: | McGraw-Hill Companies |
| Publish Date: | 11/16/2010 |
| Pages: | 304 |
| ISBN-13: | 9780071741651 |
| ISBN-10: | 0071741658 |
| Language: | English |
Full Description
WHAT INVESTORS WANT
Praise for What Investors Really Want
"We all share behavioral traits that are major roadblocks to intelligent financial decisions. Bottom line: if you really want to achieve investment success, understand yourself and eliminate or minimize these traits. This book will help you do exactly that."
-- John C. Bogle, Founder, Vanguard Funds
"What Investors Really Want enables us to "post mortem" the financial decisions of ourselves and others. The book is extremely valuable for theory, as a survey of how the human animal makes financial decisions, and for the practice of making smarter financial decisions."
--Harry M. Markowitz, Rady School of Management, University of California, San Diego; winner, Nobel Memorial Prize in Economic Sciences
"In investing, we are often our own worst enemies. Meir Statman, an expert in behavioral finance, explains the common errors to which we are prone and helps us make smarter decisions about our investments."
--Burton Malkiel, bestelling author of A Random Walk Down Wall Street
"A masterly review of the many pitfalls and challenges facing market participants today, written by one of the founders of the field of behavioral finance. This volume should be required reading for all investors and their financial advisors!"
--Andrew W. Lo, Harris & Harris Group Professor of Finance at the MIT Sloan School of Management
"What a gem! Meir Statman is a wise and engaging teacher, and after reading his book, I will be a wiser, better, less anxious investor."
--Don Ezra, co-chair, global consulting, Russell Investments, and co-author of Pension Fund Excellence and The Retirement Plan Solution
"The first step to good investing is always the same, 'know thyself'. If you read this book and don't recognize a lot of yourself in it, you're just not paying attention!"
--Cliff Asness, founding and managing principal, AQR Capital Management LLC
"Meir Statman, a leading light of behavioral finance, shines the bright light of modern neuropsychology on all the mental demons that conspire to make you poor. He'll make you laugh, he'll make you cry and, best of all, he'll improve your bottom line."
--William Bernstein, bestselling author of The Intelligent Asset Allocator
Combining the new field of behavioral finance with the real world of investing, this engaging new book explores the mind-sets and motivations behind the major money decisions--and most common mistakes--that investors make every day. With insider's insight, and a storyteller's voice, behavioral finance expert Meir Statman reveals What Investors Really Want . . .
Investors want bigger profits with lower risks. How our desire for free investment lunches can leave us with no lunches
Investors want to play and win. How our desire to win the investment game can turn us into losers
Investors want to save money for tomorrow and spend it today. How we struggle between spending too much and spending too little
Investors want status, respect, and social responsibility. How to know what's really important in life
Investors do not want to face financial losses. How to recognize and confront the regret that accompanies losses
You'll also learn how age, gender, genetics, and personality affect your investment decisions and how people of different countries and cultures think about risks and returns, poverty, and wealth. You'll discover how behavioral finance provides key insights into the behavior that has rocked investment markets in recent years. And, most important, you'll learn to recognize the desires, thoughts, and emotions that drive your own investment decisions--so you can drive better on your road to investment success.