Business Books to Watch in January
These are just some of the books we have our eyes on in January.
2017 is starting off strong in the publication of business books. These are just twenty (and it was hard to pare it down to just twenty) of the books we have our eyes on in the first month of the new year—in chronological order of their publication.
Ask More: The Power of Questions to Open Doors, Uncover Solutions, and Spark Change by Frank Sesno, AMACOM
What hidden skill links successful people in all walks of life? What helps them make smart decisions? The answer is surprisingly simple: They know how to ask the right questions at the right time.
Questions help us break down barriers, discover secrets, solve puzzles, and imagine new ways of doing things. But few of us know how to question in a methodical way. Emmy-award-winning journalist and media expert Frank Sesno aims to change that with Ask More.
From questions that cement relationships, to those that help us plan for the future, each chapter in Ask More explores a different type of inquiry. By the end of the book, you'll know what to ask and when, what you should listen for, and what you can expect as the outcome. Packed with illuminating interviews, the book explains:
How the Gates Foundation used strategic questions to plan its battle against malaria
How turnaround expert Steve Miller uses diagnostic questions to get to the heart of a company's problems
How NPR's Terry Gross uses empathy questions to dig deeper
How journalist Anderson Cooper uses confrontational questions to hold people accountable
How creative questions animated a couple of techie dreamers to brainstorm Uber
Both intriguing and inspiring, Ask More shows how questions convey interest, feed curiosity, and reveal answers that can change the course of both your professional and personal life.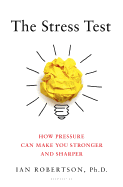 The Stress Test: How Pressure Can Make You Stronger and Sharper by Ian Robertson, Bloomsbury USA
From one of the world's most respected neuroscientists, an eye-opening study of why we react to pressure in the way we do and how to be energized rather than defeated by stress.
Why is it that some people react to seemingly trivial emotional upsets—like failing an unimportant exam or tackling a difficult project at work—with distress, while others power through life-changing tragedies showing barely any emotional upset whatsoever? How do some people shine brilliantly at public speaking when others stumble with their words and seem on the verge of an anxiety attack? Why do some people sink into all-consuming depression when life has dealt them a poor hand, while in others it merely increases their resilience?
The difference between too much pressure and too little can result in either debilitating stress or lack of motivation in extreme situations. However, the right level of challenge and stress can help people flourish and achieve more than they ever thought possible.
In The Stress Test, clinical psychologist and cognitive neuroscientist Ian Robertson, armed with over four decades of research, reveals how we can shape our brain's response to pressure and how stress actually can be a good thing. The Stress Test is a revelatory study of how and why we react to pressure as we do, and how we can change our response to stress to our benefit.
Smart Collaboration: How Professionals and Their Firms Succeed by Breaking Down Silos by Heidi K. Gardner, Harvard Business Review Press
Not all collaboration is smart. Make sure you do it right.
Professional service firms face a serious challenge. Their clients increasingly need them to solve complex problems—everything from regulatory compliance to cybersecurity, the kinds of problems that only teams of multidisciplinary experts can tackle.
Yet most firms have carved up their highly specialized, professional experts into narrowly defined practice areas, and collaborating across these silos is often messy, risky, and expensive. Unless you know why you're collaborating and how to do it effectively, it may not be smart at all. That's especially true for partners who have built their reputations and client rosters independently, not by working with peers.
In Smart Collaboration, Heidi K. Gardner shows that firms earn higher margins, inspire greater client loyalty, attract and retain the best talent, and gain a competitive edge when specialists collaborate across functional boundaries. Gardner, a former McKinsey consultant and Harvard Business School professor now lecturing at Harvard Law School, has spent over a decade conducting in-depth studies of numerous global professional service firms. Her research with clients and the empirical results of her studies demonstrate clearly and convincingly that collaboration pays, for both professionals and their firms.
But Gardner also offers powerful prescriptions for how leaders can foster collaboration, move to higher-margin work, increase client satisfaction, improve lateral hiring, decrease enterprise risk, engage workers to contribute their utmost, break down silos, and boost their bottom line.
With case studies and real-world insights, Smart Collaboration delivers an authoritative case for the value of collaboration to today's professionals, their firms, and their clients and shows you exactly how to achieve it.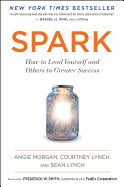 Spark: How to Lead Yourself and Others to Greater Success by Angie Morgan, Courtney Lynch, and Sean Lynch, Houghton Mifflin Harcourt
Leadership isn't about a job title—it's about action and behavior.
In Spark, entrepreneurs, business consultants and military Veterans Angie Morgan, Courtney Lynch, and Sean Lynch show how anyone can become an extraordinary leader by embracing seven key behaviors.
Many people believe that leaders are the rare few at the upper echelons of a business or other enterprise. But the truth is leaders can be found at any level of an organization. These are the Sparks—the doers, thinkers, innovators, and key influencers who are catalysts for personal and organizational change. Sparks aren't defined by the place they hold on an organizational chart. They are defined by their actions, commitment, and will.
When Sparks are ignited, their actions can shape their future. They make things better. They're the individuals who have the courage to challenge the status quo and take action.
Spark's insights were hard-earned by its authors, Angie Morgan (Marine Corps), Courtney Lynch (Marine Corps), and Sean Lynch (Air Force), who today are sought-after consultants and keynote speakers, through their firm Lead Star, due to the relevant, engaging way they help individuals reimagine themselves as leaders so they can reach their true potential.
Not only does Spark provide you with the encouragement and motivation to be a leader, it also offers online resources that will further support your leadership development. With Spark as a blueprint, anyone can become a catalyst for change, and any organization can identify and develop Sparks.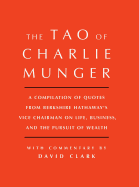 Tao of Charlie Munger: A Compilation of Quotes from Berkshire Hathaway's Vice Chairman on Life, Business, and the Pursuit of Wealth With Commentary by David Clark, Scribner
Words of wisdom from Charlie Munger—Warren Buffett's longtime business partner and the visionary Vice Chairman of Berkshire Hathaway—collected and interpreted with an eye towards investing by David Clark, coauthor of the bestselling Buffettology series.
Born in Omaha, Nebraska in 1924 Charlie Munger studied mathematics at the University of Michigan, trained as a meteorologist at Cal Tech Pasadena while in the Army, and graduated magna cum laude from Harvard Law School without ever earning an undergraduate degree. Today, Munger is one of America's most successful investors, the Vice Chairman of Berkshire Hathaway, and Warren Buffett's business partner for almost forty years. Buffett says "Berkshire has been built to Charlie's blueprint. My role has been that of general contractor." Munger is an intelligent, opinionated business man whose ideas can teach professional and amateur investors how to be successful in finance and life.
Like The Tao of Warren Buffett and The Tao Te Ching, The Tao of Charlie Munger is a compendium of pithy quotes including, "Knowing what you don't know is more useful than being brilliant" and "In my whole life, I have known no wise people who didn't read all the time—none, zero." This collection, culled from interviews, speeches, and questions and answers at the Berkshire Hathaway and Wesco annual meetings, offers insights into Munger's amazing financial success and life philosophies. Described by Business Insider as "sharp in his wit and investing wisdom," Charlie Munger's investment tips, business philosophy, and rules for living are as unique as his life story; intelligent as he clearly is; and as successful as he has been.
The Fourth Industrial Revolution by Klaus Schwab, Crown Business
Founder and Executive Chairman of the World Economic Forum argues that we on the brink of a technological revolution unlike anything humankind has experienced before, and describes how it will fundamentally alter how we live and work.
Previous industrial revolutions led to the rise of cities, made mass production possible and brought digital capabilities to billions of people. We are now on the brink of a Fourth Industrial Revolution, characterized by a range of new technologies fusing the physical, digital, and biological worlds, impacting all disciplines, economies, and industries and even challenging ideas about what it means to be human. And this revolution is unlike in other in human history, for a few reasons.
First is the pace of progress. Already, artificial intelligence is all around us, from Watson to drones to virtual assistants. We have 3-D printing, DNA sequencing, microchips many times smaller than a grain of sand. But that's nothing compared to what's coming. WEF data predicts that by 2025, we will see: nanomaterials 200 times stronger than steel and a million times thinner than human hair used in commercial manufacturing, the first transplant of a 3-D printed liver, driverless cars equaling 10% of all cars on US road, AI robots collecting taxes and performing corporate audits, and much more.
Second is the speed at which these technologies are proliferating. Consider that in 2003, 500 million devices were connected to the internet. Today, that number is 6.4 billion and is expected hit 1 trillion in under a decade.
Third is the increasing integration of the digital and physical worlds. Think beyond smart thermostats and wearable sensors and imagine "smart factories" in which global systems of manufacturing are coordinated virtually, or implantable mobile phones made up of biosynthetic materials.
Schwab outlines the key technologies driving this revolution, discusses the major impacts on governments, businesses, civil society, and individuals, and offers bold ideas for what can be done to shape a better future—one in which technology empowers people rather than replaces them, progress serves society rather than upending it, and innovators respect moral and ethical boundaries rather than crossing them.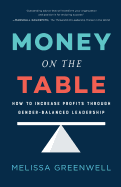 Money on the Table: How to Increase Profits through Gender-Balanced Leadership by Melissa Greenwell, Greenleaf Book Group
If our executive suites and boardrooms aren't gender-balanced, we're throwing money away!
The shortage of women in boardrooms and executive suites means companies are missing out on the best solutions, products, and services—and on having the type of workplace that will attract the best workers. Gender imbalance is a serious problem in companies, and the cost is significant—but it is a problem we can solve. Melissa Greenwell challenges leaders in a no-blame, logical approach to bring more female talent into leadership positions for one simple reason: Their companies will make more money if they do.
Leaders of gender-balanced companies profit from differences in the female brain responsible for questioning, debate, idea-generation, and problem solving, and those companies see increased performance and healthier strategies and tactics. Greenwell deftly demystifies gender imbalance, making it a topic we can discuss without fearing perceptions of favoritism or sexism.
Money on the Table is destined to become the go-to book for CEOs and their leadership teams, boards of directors, and top HR leaders, with a clear place in talent acquisition and engagement strategies as well. Greenwell supports her thesis with business cases, interviews with top business leaders, and the brain science that explains why women and men think, communicate, and problem-solve differently. Key insights, explanations, vocabulary, and action plans complete the book along with a compelling list of ten rules that women should abide by to fulfill their part of "getting a seat at the table."
The Entrepreneur's Book of Actions: Essential Daily Exercises and Habits for Becoming Wealthier, Smarter, and More Successful by Rhett Power, McGraw-Hill
The founder of an Inc. magazine fastest-growing company gives entrepreneurs the secret to building the sustainable growth needed to win in today's crowded markets.
Equal parts instruction and inspiration, The Entrepreneur's Book of Actions provides the tools readers need to build a successful company by discarding old habits, thinking in a new way, and focusing their efforts on what's important. Budding entrepreneurs will learn how to manage their time, their employees, and their money and become the leaders they need to be. In the end, readers will minimize effort needed to complete basic tasks, freeing up more time for creative and innovative endeavors—absolutely necessary ingredients for succeeding in today's competitive landscape.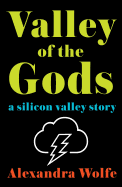 Valley of the Gods: A Silicon Valley Story by Alexandra Wolfe, Simon & Schuster
In a riveting, hilarious account, reporter Alexandra Wolfe exposes a world that is not flat but bubbling—the men and women of Silicon Valley, whose hubris and ambition are changing the world.
Each year, young people from around the world go to Silicon Valley to hatch an idea, start a company, strike it rich, and become powerful and famous. In The Valley of the Gods, Wolfe follows three of these upstarts who have "stopped out" of college and real life to live and work in Silicon Valley in the hopes of becoming the next Mark Zuckerberg or Elon Musk. No one has yet documented the battle for the brightest kids, kids whose goals are no less than making billions of dollars—and the fight they wage in turn to make it there. They embody an American cultural transformation: A move away from the East Coast hierarchy of Ivy Leagues and country clubs toward the startup life and a new social order.
Meet the billionaires who go to training clubs for thirty-minute "body slams" designed to fit in with the start-up schedule; attend parties where people devour peanut butter-and-jelly sushi rolls; and date and seduce in a romantic culture in which thick glasses, baggy jeans, and a t-shirt is the costume of any sex symbol (and where a jacket and tie symbolize mediocrity). Through Wolfe's eyes, we discover how they date and marry, how they dress and live, how they plot and dream, and how they have created a business world and an economic order that has made us all devotees of them.
A blistering, brilliant, and hysterical examination of this new ruling class, The Valley of the Gods presents tomorrow's strange new normal where the only outward signs of tech success are laptops and ideas.
Narrative and Numbers: The Value of Stories in Business by Aswath Damodaran, Columbia University Press
How can a company that has never turned a profit have a multibillion dollar valuation? Why do some start-ups attract large investments while others do not?
Aswath Damodaran, finance professor and experienced investor, argues that the power of story drives corporate value, adding substance to numbers and persuading even cautious investors to take risks. In business, there are the storytellers who spin compelling narratives and the number-crunchers who construct meaningful models and accounts. Both are essential to success, but only by combining the two, Damodaran argues, can a business deliver and sustain value.
Through a range of case studies, Narrative and Numbers describes how storytellers can better incorporate and narrate numbers and how number-crunchers can calculate more imaginative models that withstand scrutiny. Damodaran considers Uber's debut and how narrative is key to understanding different valuations. He investigates why Twitter and Facebook were valued in the billions of dollars at their public offerings, and why one (Twitter) has stagnated while the other (Facebook) has grown. Damodaran also looks at more established business models such as Apple and Amazon to demonstrate how a company's history can both enrich and constrain its narrative. And through Vale, a global Brazil-based mining company, he shows the influence of external narrative, and how country, commodity, and currency can shape a company's story. Narrative and Numbers reveals the benefits, challenges, and pitfalls of weaving narratives around numbers and how one can best test a story's plausibility.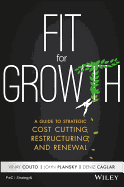 Fit for Growth: A Guide to Strategic Cost Cutting, Restructuring, and Renewal by Vinay Couto, John Plansky, and Deniz Caglar, Wiley
A practical approach to business transformation.
Fit for Growth* is a unique approach to business transformation that explicitly connects growth strategy with cost management and organization restructuring. Drawing on 70-plus years of strategy consulting experience and in-depth research, the experts at PwC's Strategy& lay out a winning framework that helps CEOs and senior executives transform their organizations for sustainable, profitable growth. This approach gives structure to strategy while promoting lasting change. Examples from Strategy&'s hundreds of clients illustrate successful transformation on the ground, and illuminate how senior and middle managers are able to take ownership and even thrive during difficult periods of transition. Throughout the Fit for Growth process, the focus is on maintaining consistent high-value performance while enabling fundamental change.
Strategy& has helped major clients around the globe achieve significant and sustained results with its research-backed approach to restructuring and cost reduction. This book provides practical guidance for leveraging that expertise to make the choices that allow companies to:
Achieve growth while reducing costs
Manage transformation and transition productively
Create lasting competitive advantage
Deliver reliable, high-value performance
Sustainable success is founded on efficiency and high performance. Companies are always looking to do more with less, but their efforts often work against them in the long run. Total business transformation requires total buy-in, and it entails a series of decisions that must not be made lightly. The Fit for Growth approach provides a clear strategy and practical framework for growth-oriented change, with expert guidance on getting it right.
*Fit for Growth is a registered service mark of PwC Strategy& Inc. in the United States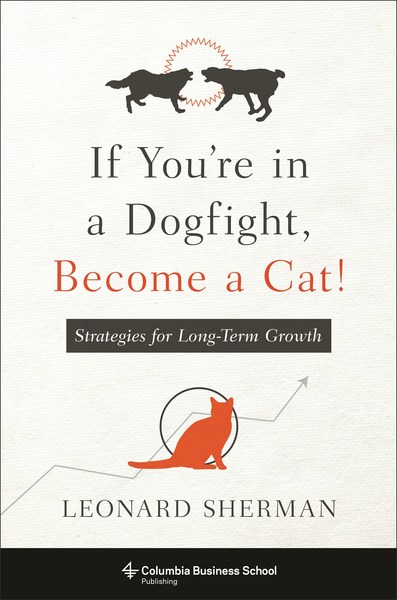 If You're in a Dogfight, Become a Cat!: Strategies for Long-Term Growth by Leonard Sherman, Columbia University Press
When Yellow Tail wines launched in 2001, they battled 6,500 other wineries for a share of the American market. By 2007, Yellow Tail sales in the United States exceeded the sales of all French wineries combined. How did this new business enter such a crowded market and succeed?
If You're in a Dogfight, Become a Cat! explains how businesses such as Yellow Tail survive and thrive in industries embroiled in "dogfights"—intense competition among established companies for a small piece of the market. Leonard Sherman, a longtime business consultant and faculty member at Columbia Business School, has developed a three-part strategy based on years of consulting for such companies as Audi, Toyota, and United Technologies. His advice: compete on different terms to attract new customers. FedEx, Apple, Southwest Airlines, and Starbucks have thrived as cats by differentiating their businesses, aligning their goals and practices, and continuously innovating their products. Rather than compete head-on with other PC manufacturers, Apple introduced a new category of tablet devices to unlock latent demand for mobile computing. Yellow Tail turned beer- and liquor-lovers on to casual, inexpensive, drinkable wines through youthful packaging. In this book, managers of companies big and small encounter dozens of model strategies for product design and forward-thinking organization that have resulted in real long-term, profitable growth.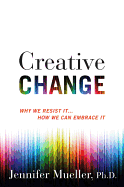 Creative Change: Why We Resist It . . . How We Can Embrace It by Jennifer Mueller, Houghton Mifflin Harcourt
One of the nation's leading psychologists asks why today's corporate leaders desire but reject creative solutions—and finds some surprising conclusions.
All corporate CEOs, top executives, and other business leaders say they want creativity and need real innovation in order to thrive in a competitive world. But according to startling research from former Wharton management professor Jennifer Mueller, the truth is that many business leaders chronically reject creative solutions and often embrace the familiar, even as they profess commitment to innovation.
Mueller's research also reveals that it's not just CEOs, but educators, scientists, and many, many others who often struggle to accept new and creative ideas even when desired. Mueller parses the tough questions that these findings raise. Could people love but also hate creative ideas? Could the mindset we use to evaluate ideas turn this love or hate on or off—in an instant? Do experts struggle even more than novices with this bias? And even more startling, could the "best practices" that organizations employ to manage innovation activate this bias, and inadvertently, kill innovation?
Mueller diagnoses this hidden innovation barrier, and provides solutions, including:
A four-step process (and a fifth lifeline) to self-disrupt your current mindset and recognize creative opportunity;
an idea-pitching framework aimed at helping you overcome other peoples' sticky preference for the status quo;
key organizational levers to disrupt the cultural beliefs holding your company back;
tips to more accurately recognize creative leaders who can lead organizations in productive new directions, and
strategies to generate ideas without harming your ability to make them count with the decision-makers.
Based on the latest psychological studies in the field, along with numerous illustrative examples, Creative Change is the kind of provocative creative leadership book that will be discussed for years to come.
Own It: The Power of Women at Work by Sallie Krawcheck, Crown Business
One of the highest ranked women ever to work on Wall Street shows women how to elevate themselves and their careers by embracing and investing in the unique traits proven to make women stonger leaders, better team players, and more valuable assets to companies and employers. Picking up the conversation where Lean In left off, she shows women how to go beyond sitting at the table and how to rise to the next level.
Sallie Krawcheck has had it with advice implying that if women simply leaned in a little farther, played the game a little better, and demanded just a few more seats at the table—i.e. acted a little more like MEN—they could finally break through that glass ceiling. This is a contest rigged to lose. A better strategy is to embrace and invest in the unique traits that make women better positioned to lead and succeed: broader perspective, greater long-term focus, healthier attitude toward risk, higher aptitude for creativity, better people skills, empathy, and more. Women who capitalize on these traits won't need to demand a place at the table; employers will offer it to them—not out of political correctness—but because it makes good business sense.
Having been the lone woman at the highest rungs of Wall Street, Krawcheck knows what it takes to succeed as a woman in a man's world. And now she puts her research analyst background to work to reveal irrefutable evidence that companies perform better when they fully engage women; that companies with women leaders serve clients and customers better, have a stronger and more engaged culture, are more innovative, and sustain profits over a longer term. Drawing on this research and on stories from her years at the top echelon of the biggest boy's club in the world, Krawcheck empowers women to elevate themselves and their companies by bringing their true female selves to work.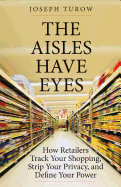 The Aisles Have Eyes: How Retailers Track Your Shopping, Strip Your Privacy, and Define Your Power by Joseph Turow, Yale University Press
A revealing and surprising look at the ways that aggressive consumer advertising and tracking, already pervasive online, are coming to a retail store near you.
By one expert's prediction, within twenty years half of Americans will have body implants that tell retailers how they feel about specific products as they browse their local stores. The notion may be outlandish, but it reflects executives' drive to understand shoppers in the aisles with the same obsessive detail that they track us online. In fact, a hidden surveillance revolution is already taking place inside brick-and-mortar stores, where Americans still do most of their buying. Drawing on his interviews with retail executives, analysis of trade publications, and experiences at insider industry meetings, advertising and digital studies expert Joseph Turow pulls back the curtain on these trends, showing how a new hyper-competitive generation of merchants—including Macy's, Target, and Walmart—is already using data mining, in-store tracking, and predictive analytics to change the way we buy, undermine our privacy, and define our reputations. Eye-opening and timely, Turow's book is essential reading to understand the future of shopping.
Getting to "Yes And": The Art of Business Improv by Bob Kulhan, with Chuck Crisafulli, Stanford Business Books
Amidst the deluge of advice for businesspeople, there lies an overlooked tool, a key to thriving in today's fast-paced, unpredictable environment: improvisation.
In Getting to "Yes And" veteran improv performer, university professor, CEO, and consultant Bob Kulhan unpacks a form of mental agility with powers far beyond the entertainment value of comedy troupes.
Drawing on principles from cognitive and social psychology, behavioral economics, and communication, Kulhan teaches readers to think on their feet and approach the most typical business challenges with fresh eyes and openness. He shows how improv techniques such as the "Yes, and" approach, divergent and convergent thinking, and focusing on being present can translate into more productive meetings, swifter decisions, stronger collaboration, positive conflict resolution, mindfulness, and more. Moving from the individual to the organizational level, Kulhan compiles time-tested teaching methods and training exercises into an instrumental guide that readers can readily implement as a party of one or a company of thousands.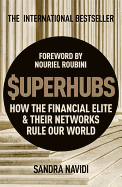 $UPERHUBS: How the Financial Elite and their Networks Rule Our World by Sandra Navidi, Nicholas Brealey
Provides an intimate glimpse into the world of the financial elite.
$UPERHUBS is a rare, behind-the-scenes look at how the world's most powerful titans, the "superhubs" pull the levers of our global financial system. Combining insider's knowledge with principles of network science, Sandra Navidi offers a startling new perspective on how superhubs build their powerful networks and how their decisions impact all our lives. $UPERHUBS reveals what happens at the exclusive, invitation-only platforms—The World Economic Forum in Davos, the meetings of the International Monetary Fund, think-tank gatherings and exclusive galas. This is the most vivid portrait to date of the global elite: the bank CEOs, fund managers, billionaire financiers and politicians who, through their interlocking relationships and collective influence are transforming our increasingly fragile financial system, economy and society.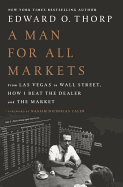 A Man for All Markets: From Las Vegas to Wall Street, How I Beat the Dealer and the Market by Edward O. Thorp, Random House
The incredible true story of Edward Thorp, the Indiana Jones of mathematics: the card-counting professor who taught the world how to beat the dealer, invented the first wearable computer, and started a revolution on Wall Street.
Professor. Card-counter. Bestselling author. Inventor. Hedge fund manager. Growing up as a kid of divorced parents living first in Chicago, then in California, Ed Thorp never imagined that he would grow up to become a professor who would mathematically prove how card-counting gives every player an edge; that his discoveries would cause such an uproar among the casinos that they would attempt to change the rules of the game; that he would invent the wearable computer, heralding the wearable technology that we use today; that he would write a bestselling book; or that he would take his knowledge of gambling to Wall Street, revolutionize investing, and make millions. And yet, all of that happened. By applying the science of information technology—the basis of computers and the Internet—to gambling, Thorp discovered a means of making as much money as possible as fast as possible. And he proved it at the blackjack tables in casinos all over Las Vegas, until the casinos first barred their doors to him, and then drugged him and sabotaged the brakes on his car. After beating the casinos at blackjack, roulette, and baccarat, Thorp, bored and looking for new challenges, took "the Kelly formula" to his hedge fund, Princeton-Newport partners, where he would make millions—even during the crashes of 1998 and 2008—and become an investor who even Warren Buffett respected. This is the uproarious true story of a man who, through a series of twists and turns, went from a professor to a gambler to an investor. Told in a voice that is equal parts Surely You're Joking, Mr. Feynman and Bill Bryson, this is an exciting, personal look at the predictability of chance and how the riskiest choices are sometimes our best bets.
Data for the People: How to Make Our Post-Privacy Economy Work for You by Andreas Weigend, Basic Books
A longtime chief scientist at Amazon shows how open data can make everyone, not just corporations, richer.
Every time we Google something, Facebook someone, Uber somewhere, or even just turn on a light, we create data that businesses collect and use to make decisions about us. In many ways this has improved our lives, yet we as individuals do not benefit from this wealth of data as much as we could. Moreover, whether it is a bank evaluating our credit worthiness, an insurance company determining our risk level, or a potential employer deciding whether we get a job, it is likely that this data will be used against us rather than for us.
In Data for the People, Andreas Weigend draws on his years as a consultant for commerce, education, healthcare, travel, and finance companies to outline how Big Data can work better for all of us. As of today, how much we benefit from Big Data depends on how closely the interests of big companies align with our own. Too often, outdated standards of control and privacy force us into unfair contracts with data companies, but it doesn't have to be this way. Weigend makes a powerful argument that we need to take control of how our data is used to actually make it work for us. Only then can we the people get back more from Big Data than we give it.
Big Data is here to stay. Now is the time to find out how we can be empowered by it.
Work PAUSE Thrive: How to Pause for Parenthood Without Killing Your Career by Lisen Stromberg, Benbella Books
After the birth of her second child, marketing and advertising executive Lisen Stromberg did something she never imagined she would do: she opted out and chose to stay home with her children.
But her career didn't end there. Stromberg paused, then pivoted to become an award-winning journalist writing about women, work, and life in Silicon Valley. Along the way, she met many highly successful women who told her they never "opted out" but had, in fact, temporarily paused or downshifted their careers. Their journeys revealed an alternative, non-linear path to the top that enabled them to reconcile family with their careers.
In Work PAUSE Thrive: How to Pause for Parenthood Without Killing Your Career, Stromberg details how these trailblazers disrupted the original paradigm by incorporating pauses into their careers and embraced all aspects of life. Deeply rooted in social science research, cutting-edge data collected from nearly 1,500 women, and through 186 first-person interviews, Stromberg provides a blueprint for stepping back from your career without sacrificing your ambitions. She shows you how to successfully opt not out, but in—not just to your career, but to your whole life.
With Stromberg's guidance, you'll learn:
Who pauses and how and why
How pausing can enrich both your career and your life
How to innovate your own path by strategically incorporating a pause into your career
What we can—and need—to do as a society to make it pausing possible for more people to achieve their personal and professional goals
There is a way to find integration when it comes to your work and your life. Work PAUSE Thrive reveals new and exciting trends in the workplace and offers targeted solutions for companies to help ensure both women and men are able to lead the lives they want, lives in which they can build both a career and a family.