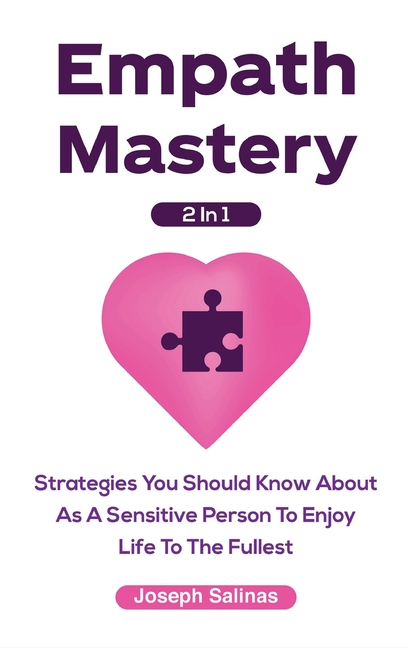 Empath Mastery 2 In 1: Strategies You Should Know About As A Sensitive Person To Enjoy Life To The Fullest
Do you find yourself heavily influenced by the feelings of those around you, and constantly. Have you been told you are being "too sensitive" or need to "toughen up.
Bulk non-returnable discounts
Quantity
Price
Discount
List Price

$

29.99
1 - 24

$

23.99
20%
25 - 99

$

20.99
30%
100 - 499

$

19.49
35%
500 +

$

18.89
37%
---
Book Information
| | |
| --- | --- |
| Publisher: | M & M Limitless Online Inc.. |
| Publish Date: | 01/12/2020 |
| Pages: | 380 |
| ISBN-13: | 9781646960736 |
| ISBN-10: | 1646960734 |
| Language: | English |
Full Description
Do you find yourself heavily influenced by the feelings of those around you, and constantly?
Have you been told you are being "too sensitive" or need to "toughen up?"
Or do you find yourself exhausted when you are around people too much?
If you responded "yes" to one of these questions, we understand how you're feeling.
You may be an empath, meaning you are a deep feeler and take on the emotions of those around you.
Being an empath can be a wonderful thing because you care for others, and you feel things very deeply, in a world that likes to shut out emotions.
But it can also be draining and energy-sucking.
Understanding who you are is the first step towards improving your life, health, and relationships.
So, how does an empath find happiness, joy, and positive energy for themselves?
This guide is an invaluable tool for understanding yourself as an empath, with scientific explanations, practical strategies, and recommendations for how to honor yourself and your empathetic skills.
In 1981, Carl Jung proposed a theory in the Princeton University Press on "Archetypes and The Collective Unconscious," in which there exists a network of emotional connection amongst humans.
His work reveals why you may be sensing what others are thinking and feeling on an intense level, helping us to understand more about empaths' experiences.
Based on scientific studies and research, like Jung's work, this guide will help you heal yourself as you heal others.
This book includes:
Evolving Empath: How To Move Past Your Limitations And Live A Fulfilling Life
Empath Strategies: How To Overcome Any Overwhelming Situation As A Sensitive Person
By reading this guide, you'll discover:
How to thrive, not just survive, as a highly sensitive person in a harsh world full of pain
Who the emotional vampires in your life are and why they are targeting you
The essential steps to avoiding the pitfalls of being an empath
When burnout is inevitable, what you should do next to heal (hint: self-care is not just a luxury )
Coping mechanisms of empaths that could be dangerous for your life - and how to overcome them
The absolute worst things you are doing to lead to sensory overload
How empaths should approach love, sex, and relationships - and how to be a good partner as an empath
Practical strategies for managing your energy and emotions at work, in relationships, and society, otherwise you will continue to suffer
Being an empath can feel like a curse, but it does not have to be like that anymore. As an empath, you are special because you represent what it means to be a human with feelings.
Embrace your skills of empathy and your power as an independent person by learning how to balance being the healer and lover you are, while also protecting yourself.
Stop hearing that you are being "too sensitive," and embrace the special gifts you bring to the world by clicking "Add to Cart" today