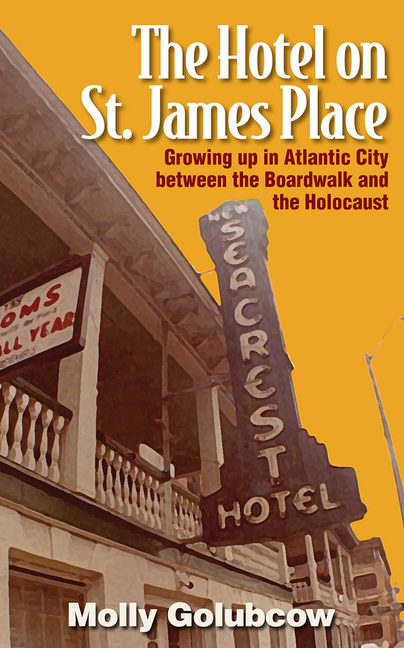 The Hotel on St. James Place: Growing Up in Atlantic City Between the Boardwalk and the Holocaust
A remembrance of Atlantic City in the 1970s and the unforgettable characters at the Seacrest Hotel on St. James Place.
Quantity
Price
Discount
List Price

$

15.95
Non-returnable discount pricing
---
Book Information
| | |
| --- | --- |
| Publisher: | Bartleby Press |
| Publish Date: | 01/15/2021 |
| Pages: | 170 |
| ISBN-13: | 9780935437577 |
| ISBN-10: | 0935437576 |
| Language: | English |
Full Description
By the early 1970s Atlantic City, New Jersey had seen better days. Its heyday was decades in the past, and the uncertain promise of casinos had not yet become a reality. Shabby, rundown and even seedy were often terms used to describe the once attractive seaside resort city.

Atlantic City was not without its charms, however. The ocean and the steady sea breeze is always hard to resist. The famous Boardwalk with its shops and the Steel Pier still drew visitors. It remained a destination for mostly bargain vacationers. Once in town, travelers mixed with the drug dealers, runaways, pimps, con artists and others to create a strange tapestry.

It was vastly different than the small shtetl in Poland where Holocaust survivors Harry and Sonia Golubcow once lived. That world had been totally destroyed. When they became the proprietors of the Seacrest Hotel on St. James Place, a small walk up hotel situated less than a block from the Boardwalk, they brought their memories with them and maintained their old world ways.

Harry would often say, "Hitler was a strange matchmaker" describing his new life. Indeed, the hotel's colorful clientele became a sort of family, with the couple demonstrating their incredible capacity to interact with strange and quirky quests with empathy and understanding-- adapting to lifestyles so foreign and opposite to their strict Jewish upbringing and alien compared to the horrors that they experienced. Along the way, they became friends, substitute parents, teachers, and in some cases, saviors to those who came to the Seacrest.

Observing all of this is Harry and Sonia's young teenage daughter, Molly. The comings and goings of the Seacrest's unforgettable characters unfold before her like a bizarre soap opera. Each person that passes by Harry's front desk begins a new tale about a Seacrest Hotel guest who made an impression on Molly. Some are sad and others dangerous, but they all have a story to tell. And they lead Molly--and us-- into a darker, misfit world of Atlantic City in those days.

Let's go to St. James Place and pay a visit to the Seacrest Hotel, as Molly Golubcow vividly remembers it. It will be an unforgettable journey.