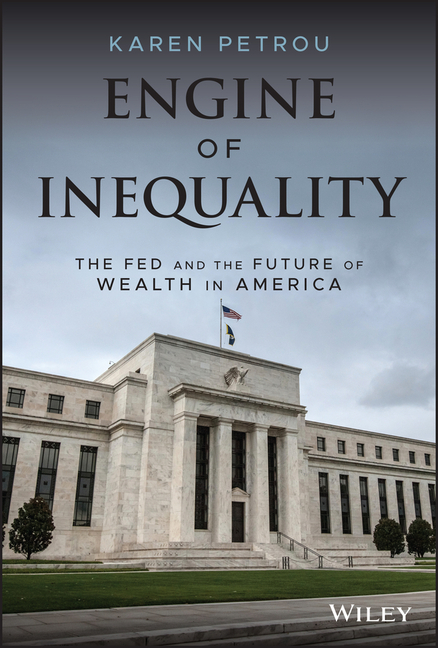 Engine of Inequality: The Fed and the Future of Wealth in America
"Economic inequality in America is on fire. The heat was rising in 2011 when Occupy Wall Street railed against the 1%, and then in 2016, when populist presidential candidates of both parties attracted fervent support. Now we see it in the platforms of 2020 candidates, whose policy proposals for tackling economic inequality reflect the critical concerns they've been hearing from angry, frustrated Americans every day.
2021 Awards Winner
Quantity
Price
Discount
List Price

$

29.95
1 - 24

$

25.46
15%
25 - 99

$

20.97
30%
100 - 249

$

20.37
32%
250 - 499

$

19.47
35%
500 +

$

18.87
37%
Non-returnable discount pricing
---
Book Information
| | |
| --- | --- |
| Publisher: | Wiley |
| Publish Date: | 03/03/2021 |
| Pages: | 288 |
| ISBN-13: | 9781119726746 |
| ISBN-10: | 1119726743 |
| Language: | English |
What We're Saying
Full Description
The first book to reveal how the Federal Reserve holds the key to making us more economically equal, written by an author with unparalleled expertise in the real world of financial policy
Following the 2008 financial crisis, the Federal Reserve's monetary policy placed much greater focus on stabilizing the market than on helping struggling Americans. As a result, the richest Americans got a lot richer while the middle class shrank and economic and wealth inequality skyrocketed. In Engine of Inequality, Karen Petrou offers pragmatic solutions for creating more inclusive monetary policy and equality-enhancing financial regulation as quickly and painlessly as possible.
Karen Petrou is a leading financial-policy analyst and consultant with unrivaled knowledge of what drives the decisions of federal officials and how big banks respond to financial policy in the real world. Instead of proposing legislation that would never pass Congress, the author provides an insider's look at politically plausible, high-impact financial policy fixes that will radically shift the equality balance. Offering an innovative, powerful, and highly practical solution for immediately turning around the enormous nationwide problem of economic inequality, this groundbreaking book:
Presents practical ways America can and should tackle economic inequality with fast-acting results
Provides revealing examples of exactly how bad economic inequality in America has become no matter how hard we all work
Demonstrates that increasing inequality is disastrous for long-term economic growth, political action, and even personal happiness
Explains why your bank's interest rates are still only a fraction of what they were even though the rich are getting richer than ever, faster than ever
Reveals the dangers of FinTech and BigTech companies taking over banking
Shows how Facebook wants to control even the dollars in your wallet
Discusses who shares the blame for our economic inequality, including the Fed, regulators, Congress, and even economists
Engine of Inequality: The Fed and the Future of Wealth in America should be required reading for leaders, policymakers, regulators, media professionals, and all Americans wanting to ensure that the nation's financial policy will be a force for promoting economic equality.