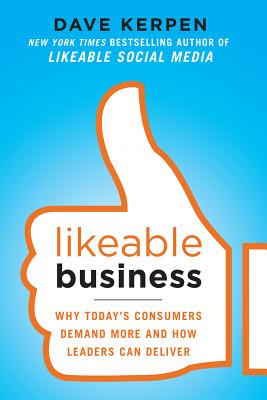 Likeable Business: Why Today's Consumers Demand More and How Leaders Can Deliver
Dave Kerpens follow-up to his bestselling Likeable Social Media gives business owners and marketers time-tested strategies for growing revenue
November 2012 Bestseller
Quantity
Price
Discount
List Price

$

22.00
25 +

$

13.20
40%
Non-returnable discount pricing
---
Book Information
| | |
| --- | --- |
| Publisher: | McGraw-Hill Companies |
| Publish Date: | 10/30/2012 |
| Pages: | 240 |
| ISBN-13: | 9780071800471 |
| ISBN-10: | 0071800476 |
| Language: | English |
Full Description
It pays to be LIKEABLE!
You can have a rock-solid business strategy, unlimited resources, and the most talented people on staff. But only one thing is guaranteed in today's hyperconnected society: if your business isn't likeable, it will fail.
Dave Kerpen knows how important it is for a business to be liked--by customers, employees, stakeholders, and the general public. He wrote the book on it. His groundbreaking bestseller Likeable Social Media changed the way businesses interact with their customers on a daily basis. Likeable Business lays out 11 strategies for organizations of all sizes to spur growth, profits, and overall success. Dave Kerpen reveals the remarkable returns you'll get when you gain the trust of your customers and stakeholders. In today's social media world, it literally pays to be likeable.
Likeable Business helps any leader at a smallor mid-sized company increase profits and spur growth by applying the 11 principles of business likeability, such as:
LISTENING--to customers, colleagues, shareholders--and competitors
AUTHENTICITY--because today's savvy customer always knows when you're faking it
TRANSPARENCY--honesty builds trust, and any deviation can destroy your reputation
ADAPTABILITY--managing change and finding new opportunities is critical to success today
SIMPLICITY--in design, in form, and in function
GRATEFULNESS--every "thank you" is appreciated . . . and generates surprising returns!
Likeability spreads. As a business leader, you set the tone. Be likeable and your staff will be likeable--which in turn creates a more likeable customer experience.
The blueprint for everlasting business likeability is in your hands. Apply Kerpen's basic principles day in and day out, and profits and growth are sure to follow.
Praise for Likeable Business
"Dave Kerpen has explained why customers expect more, and he gives you the tools to deliver on your brand promise. Be honest, be transparent, and be authentic. If you want to be likeable in business, you must read this book!"
--Jeffrey Hayzlett, bestselling author of Running the Gauntlet and The Mirror Test
"Dave Kerpen's manifesto on becoming a likeable leader of a likeable business applies equally well to social entrepreneurs and the nonprofit sector. Gratitude is his concluding principle, and I sure am grateful to Dave for writing this book."
--Charles Best, founder of DonorsChoose.org
"Kerpen demonstrates how building a likeable culture may be the most vital and rewarding strategy of all."
--John Jantsch, author of The Commitment Engine and Duct Tape Marketing
"This important, persuasive book will change the way you think about and operate your business. Anyone who hopes to lead successfully in the twenty-first century needs to read this book."
--Meg Cadoux Hirshberg, author of For Better or For Work: A Survival Guide for Entrepreneurs and Their Families
"From transparency to authenticity to the impact of sharing one's values via story telling--Dave Kerpen's blueprints on how to run a business move from 'Likeable' to essential. Ben & Jerry's was founded on these values in 1978 and has practiced them through the company's phenomenal growth to this very day. With communication at digital speeds in today's corporate world, it's no longer a choice to be responsible. Consumers choose to support businesses who practice values-led business. The opportunities when running your business in a responsible manner allow great freedom within your organization and externally with the ever-growing conscious consumer world around us."
--Jostein Solheim, CEO of Ben & Jerry's
"Dave provides a blueprint that allows entrepreneurs everywhere to build a successful, likeable business in this era of social media."
--Scott Gerber, founder of Young Entrepreneurs Council
"A masterful storyteller, Dave Kerpen takes you on a journey into the wonderful new world of tomorrow. It's a place where customers love you and ensure your business success. This is no wishful utopia. It's a reality within reach if you follow the principles of Likeable Business."
--Michael Stelzner, CEO of Social Media Examiner and author of Launch: How to Quickly Propel Your Business Beyond the Competition
"Social media teaches businesses how to be nicer to people--and be happier while doing it. This book will teach you how to make that change for your entire business--and make more money because you're doing it."
--Andy Sernovitz, New York Times bestselling author of Word of Mouth Marketing: How Smart Companies Get People Talking
"Likeability matters. It opens doors and minds and makes everything easier. But, how do you 'build' a likeable business? In Likeable Business, Kerpen shares a validated step-by-step path to likeability. A great read for entrepreneurs and executives alike!"
--Jonathan Fields, author of Uncertainty and founder of Good Life Project
"It's simple; when people understand who you are and where you come from, they're more likely to rally around your cause. Every company has its own unique history, one that's worth sharing. At 1-800-GOT-JUNK? we're passionate about sharing where we came from and where we're headed not only with our customers and the public but within our own teams."
--Brian Scudamore, founder and CEO of 1-800-GOT-JUNK?
"An excellent book for anyone working in customer service, Kerpen's work provides original ways of thinking about everyday actions. Recommended."
(Starred Review) Publisher's Weekly