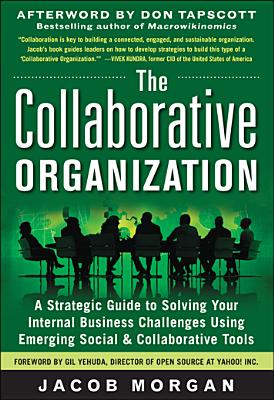 The Collaborative Organization: A Strategic Guide to Solving Your Internal Business Challenges Using Emerging Social and Collaborative Tools
Combining case studies and the authors own extensive research, The Collaborative Organization presents a strategic approach to building, implementing, and using social and collaborative technologies, such as those created by companies like Jive and Yammer, to create innovative products, solve business problems, and create new processes that will foster lasting success and growth.
Quantity
Price
Discount
List Price

$

35.00
25 +

$

21.00
40%
Non-returnable discount pricing
---
Book Information
| | |
| --- | --- |
| Publisher: | McGraw-Hill Companies |
| Publish Date: | 06/26/2012 |
| Pages: | 304 |
| ISBN-13: | 9780071782302 |
| ISBN-10: | 0071782303 |
| Language: | English |
What We're Saying
"Will we have employees in the future? Will employees work with robots? " ~Jacob Morgan READ FULL DESCRIPTION
"Everyone always talks about the customer but in my opinion change must start from the inside first. . . READ FULL DESCRIPTION
"[M]ost organizations and managers today focus on the amount of time that employees appear to spend doing something and not on what they actually produce. This has to change. Just because employees are "putting in hours" doesn't mean anything. READ FULL DESCRIPTION
Full Description
Solve problems, seize opportunities, and ignite innovation with a powerful collaborative technology business strategy
"In today's global economy collaboration is key to building a connected, engaged, and sustainable organization. Jacob's book guides leaders on how to develop strategies to build this type of a 'Collaborative Organization.'"
--Vivek Kundra, Former Chief Information Officer of the United States of America
"Everyone knows that the future of work is engaged employees who collaborate to get things done but struggle to figure out how to get there. Jacob's book is a valuable strategic guide to help leaders deploy emerging collaboration technologies and strategies to 'get there.'"
--Jonathan Becher, CMO of SAP
"ManpowerGroup recognizes that in the Human Age, it is people that power the world of work and people are capable of much more when they collaborate to achieve their goals. Leaders looking to build this type of a Collaborative Organization should read this book."
--Denis Edwards, Senior Vice President, Global Chief Information Officer, ManpowerGroup
"A valuable strategic guide for organizations looking to tap the power of new social and collaborative tools to create more connected, engaged, and successful organizations."
--Ed Coleman, Chairman and CEO, Unisys Corporation
"This book gets to the very real issues that companies of all sizes, in all industries, continue to face. Social and collaborative tools are certainly part of the picture, but Morgan goes beyond this to look at true enterprisewide collaboration that is inextricably tied to business strategy."
--Karen Quintos, Senior Vice President and Chief Marketing Officer, Dell
"The rise of social and collaborative technologies is driving a new type of business conversation. Morgan provides valuable insights on how companies can evaluate today's options and implement successful strategies and solutions to seize this opportunity."
--Paul Segre, President and CEO, Genesys, and former EVP, Alcatel-Lucent
"Most business leaders understand how critical collaborative tools are to the success of their companies. What they need now is a guide based on hard data and practical experiences that shows how to put those tools to work. Morgan fills that need with this book."
--Erik Brynjolfsson, coauthor, Race Against the Machine and Wired for Innovation, and Chair of the MIT Sloan Management Review
"The value of collaboration is intuitive: we accomplish more, faster, better when we work as a team and play well with others. But collaboration at the scale and pace of modern enterprise isn't simple, easy, or straightforward: harnessing the power of organizational collaboration requires the right mix of art and science, and an expert coach would sure be helpful. The Collaborative Organization provides a plan, real-world lessons, insights, and expertise born of broad-based research tempered by the rich and diverse experience of early pioneers."
--Mark Yolton, SVP of SAP
"A fresh, honest, and actionable guide to internal collaboration. The Collaborative Organization delivers practical insight into what it takes to successfully launch, maintain, and evolve the initiatives that are designed to address collaboration challenges unique to your business. A valuable read."
--Nathan Bricklin, SVP and Head of Collaboration Strategy, Wells Fargo
About the Book:
While there are few guarantees in business these days, there is one simple truth we can all agree upon: Companies that embrace social and collaborative technologies and strategies stand the best chances of succeeding; those who don't will fail.
Still, the question remains: How do you get the most out of these world-changing tools and how do you develop strategies to succeed?
Jacob Morgan, the cofounder of Chess Media Group, says that you have to start where it all begins--with your employees--and in The Collaborative Organization, he shows how to do it.
In this nuts-and-bolts guide, Morgan provides the information, insight, and strategic framework you need to use emergent collaborative software behind your company's firewall to solve business problems, unearth new opportunities, and drive innovation.
The Collaborative Organization takes you from the starting gate to the finish line of creating and executing a profit-driving, growthfocused strategy that leverages the power of social and collaborative technologies and strategies in your company. Learn all there is to know about:
Using collaborative technology to transform your business
Avoiding risks that come with making social technology part of your organizational DNA
Choosing the right software and technologies for your specific needs
Getting every employee on board
Assessing your organization's collaborative readiness
Building teams to lead collaboration
Motivating employees to make social technologies part of their everyday routine
Measuring and sustaining the success of your strategy
Dozens of case studies and contributions from companies from around the world, such as the Children's Hospital, the U.S. Department of State, UPS, Vanguard, and Pabst Brewing Co., clearly illustrate what works, what doesn't, and why.
Whether your company has 100 employees or 100,000, The Collaborative Organization gives you what you need to get everyone on board to foster lasting success and growth in today's uncertain but exciting business landscape.